National Academy of Science 2005 Communication Awards announced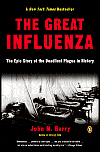 2005 NAS awards announced.
Top book prize: John Barry's
The Great Influenza
, about the 1918 pandemic. (A great book, I agree, but I still prefer Crosby's
America's Forgotten Pandemic.
)
Carl Zimmer
also received finalist honors for several of his essays, including blog entries. Three cheers for great science writing!